One of the core missions of Gateway Powersports is to support and encourage recerational family fun for youth to grandparents. Saftey is one of the most important elements in order to have Fun. Teaching ATV & snowmobile Safety classes is something we hope to do at least bi- annually with the local Recreational Sports Clubs.
Upcoming  ATV & Snowmobile Saftey Class at Gateway Powersports
4/4/2023 5:00 PM – 4/4/2023 7:00 PM
In person registration and course material pickup, Gateway PowerSports S2502 CTY BD, Baraboo, 53913-9433
4/26/2023 5:00 PM – 4/26/2023 8:00 PM
Gateway Powersports, S2502 CTY BD, Baraboo, 53913-9433
4/29/2023 8:00 AM – 4/29/2023 2:00 PM
Gateway Powersports, S2502 CTY BD, Baraboo, 53913-9433
In person Registration Tuesday, April 4th 5-7pm Classes at Gateway Powersports Wednesday, Apr 26, 2023 5pm – 8pm Saturday, Apr 29, 2023 8am – 2pm
This is an intense, two-day, participatory, classroom combined ATV and snowmobile safety course at Gateway Powersports. You need to register for BOTH the ATV and Snowmobile courses. The course consists of two classroom sessions. Both sessions MUST be attended.
Seats are limited and the course fills up quickly. Please register soon. Parents are welcome to sit in with students.
Steps to Success':
#1 – each student must obtain a DNR customer ID number (https://gowild.wi.gov/ or call 1-888-936-7463); #2 – register in person with at Gateway Powersports Tuesday April 4th 5-7pm ,
#2 Material Pick up at Gateway Powersports at least 2 weeks PRIOR to first class – bring your DNR number and $10 registration fee (cash only please), and receive the ATV Safety manual with additional information;
#3 – read and study the manual and complete ALL chapter review questions PRIOR to the first class;
#4 – you MUST attend BOTH classes;
#5 – after successfully passing the course, one week later, print out your certificate from Go Wild;
#6 – enjoy SAFE trail riding! $10.00
$10.00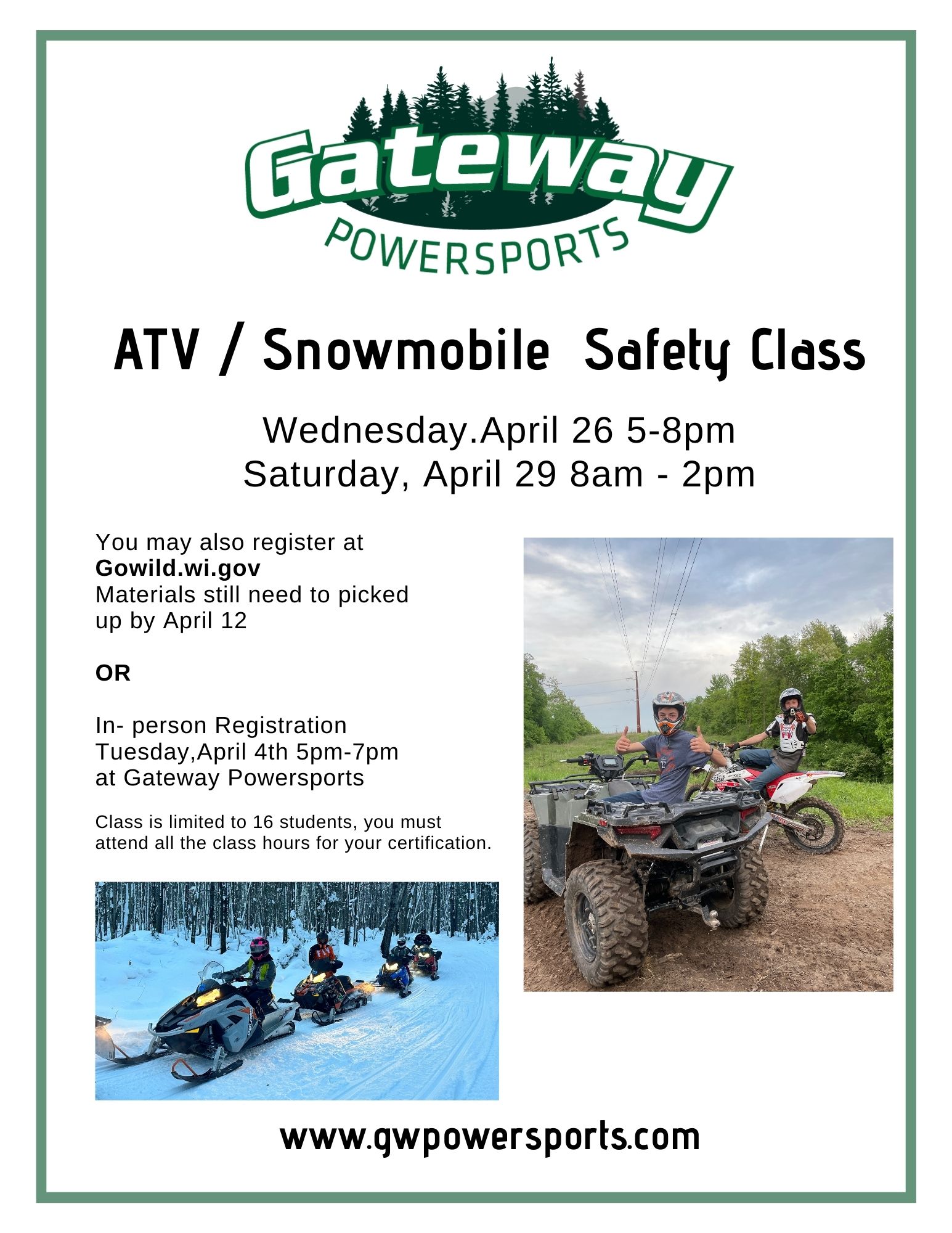 Wisconsin DNR ATV & Snowmobile Saftey Class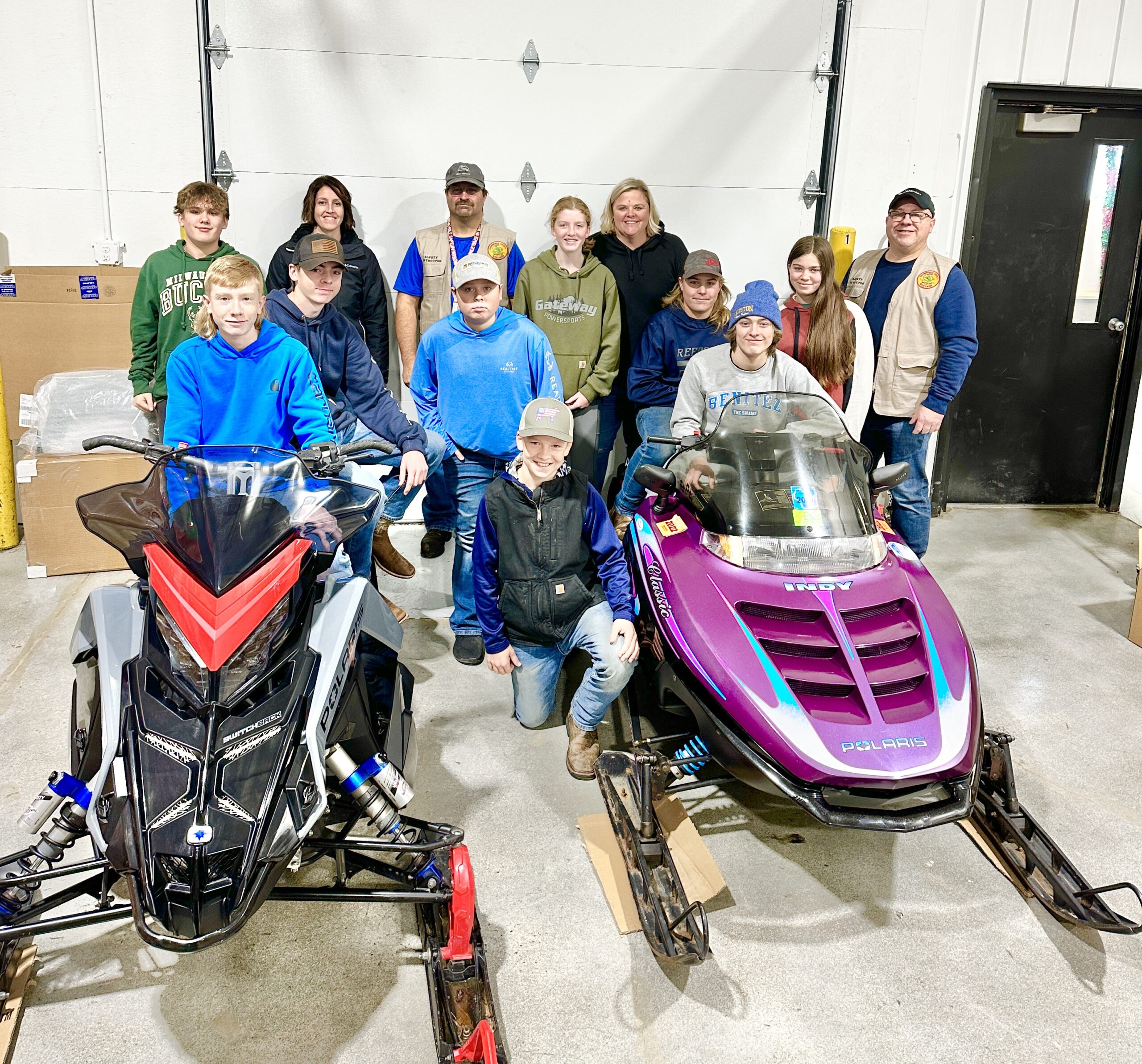 Click the link above to register for this class or see other classes in Sauk County and Wisconsin.
The Wisconsin Department of Natural Resources (DNR) offers ATV and Snowmobile safety classes for riders of all ages. These classes are designed to teach riders the skills and knowledge needed to operate these vehicles safely and responsibly. Here's what you need to know about the Wisconsin DNR ATV and Snowmobile safety classes:
Who can take the classes: ATV and Snowmobile safety classes are open to riders of all ages.
What you'll learn: The classes cover a variety of topics, including the rules of the road, safe riding practices, and proper vehicle maintenance. You'll also learn about the importance of wearing safety gear and how to ride in different terrain and weather conditions.
How to register: You can register for ATV and Snowmobile safety classes online through the Wisconsin DNR website. Classes are offered throughout the year, and you can choose a date and location that works best for you.
Course requirements: The ATV and Snowmobile safety classes are a mix of classroom instruction and hands-on training. To pass the course, you must attend all sessions and pass a written exam and a riding test.
Certification: Once you complete the course, you'll receive a certificate of completion. This certificate is required by law for riders born after January 1, 1988, who want to operate an ATV or Snowmobile on public land in Wisconsin.
By taking the Wisconsin DNR ATV and Snowmobile safety classes, you'll be equipped with the knowledge and skills you need to operate these vehicles safely and responsibly, while also meeting the legal requirements for riding on public land in Wisconsin.
7 Tips for a Fun Family UTV/ ATV Trip
Family powersports can be a fun and exciting way to spend quality time together, but safety should always be a top priority. Here are some tips for family powersports:
Choose age-appropriate vehicles: Make sure that the vehicles you choose are appropriate for the age and skill level of each family member. For younger children, consider small ATVs or dirt bikes, while older children and adults may enjoy larger ATVs or UTVs.
Wear proper safety gear: Make sure that everyone wears appropriate safety gear, including helmets, goggles, gloves, and protective clothing. This can help prevent serious injuries in case of an accident.
Review safety guidelines: Review safety guidelines with your family before riding, including speed limits, trail etiquette, and hand signals. Make sure everyone understands the rules and agrees to follow them.
Choose appropriate trails and locations: Choose trails and locations that are appropriate for the skill level of all family members. Make sure to follow all rules and regulations for the area, and respect the environment.
Bring snacks and water: Bring plenty of water and snacks to keep everyone hydrated and energized during the ride.
Take breaks: Take regular breaks to rest and stretch. This will help prevent fatigue and keep everyone comfortable during the ride.
Have fun: Finally, remember to have fun! Enjoy the scenery and the thrill of the ride, but always prioritize safety and respect for the environment.
By following these tips, you can ensure a safe and enjoyable family powersports experience that everyone will remember for years to come.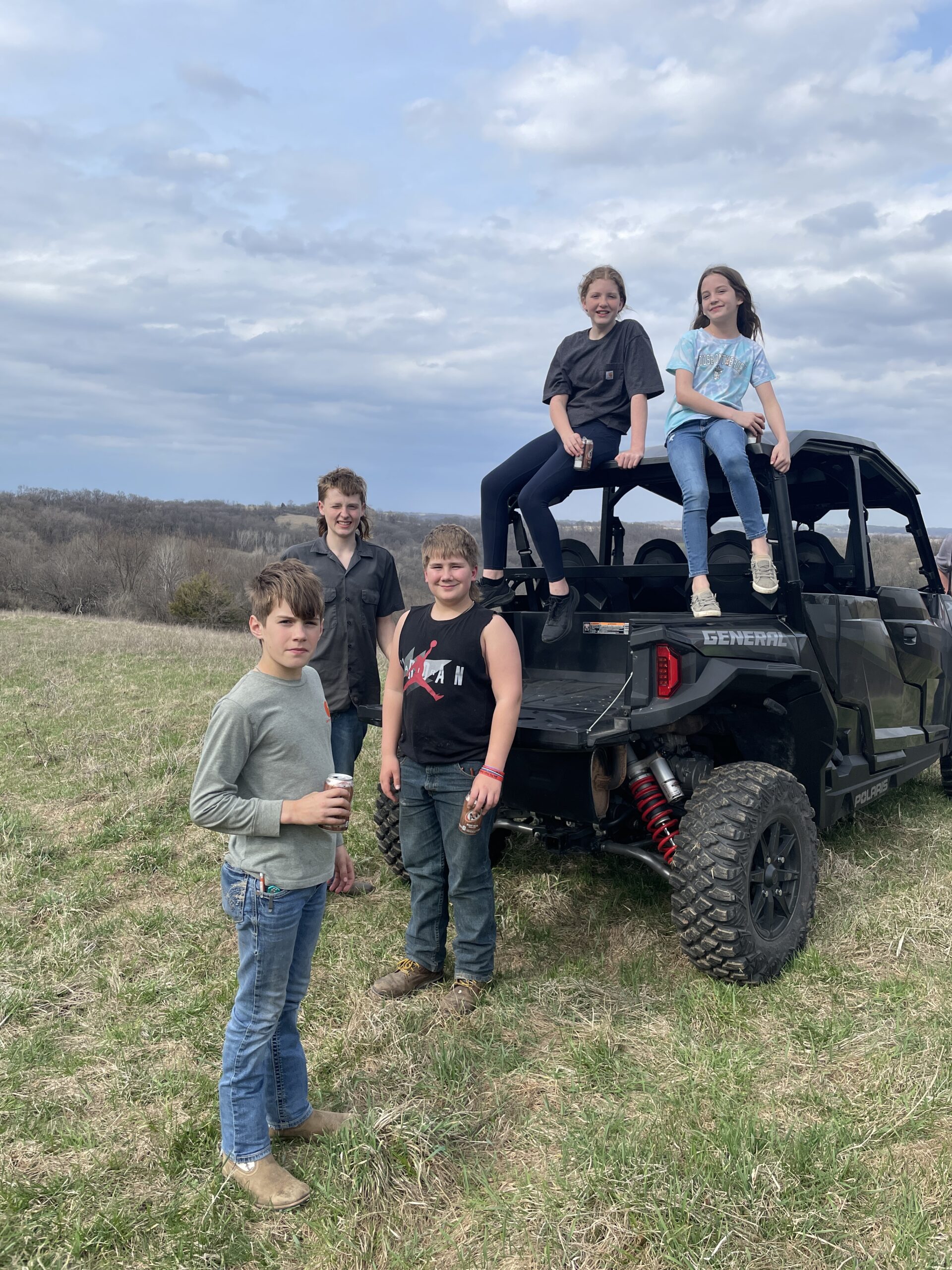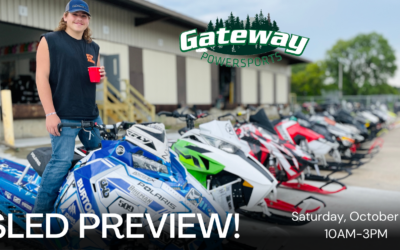 2022 Snowmobile  PreviewGet ready to rev up your winter excitement and dive into the world of snowmobiling at the Gateway Powersports Sled Preview 2023 on Saturday October 7 9am to 3pm! See the Newest snowmobile inventory, grab your pre season maintaince supplies,...