Gateway Powersports Crew Love a party to celebrate the recreational sports in all seasons. We host a few annual events here at the Gateway Shop and attend a few on a annual basis off site. Follow along here on the website and blog leading up to the events and on our social stories in the moments. It's usually a pretty good time!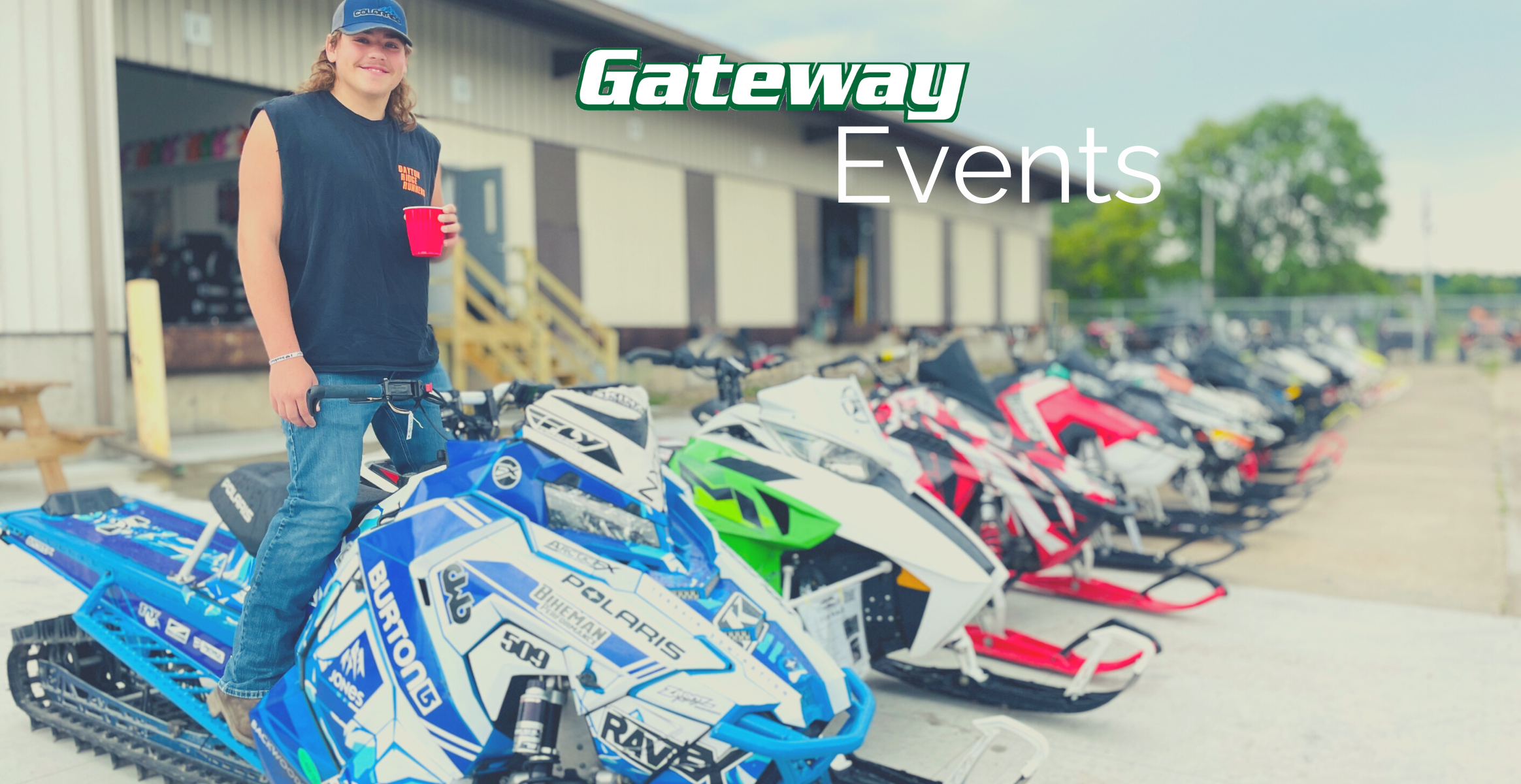 Spring ATV & Snowmobile Combo Class
Wednesday.April 26 5-8pm
Saturday, April 29 8am – 2pm
Spring ATV & Snowmobile Safety Classes
One of the core missions of Gateway Powersports is to support and encourage recerational family fun for youth to grandparents. Saftey is one of the most important elements in order to have Fun.
Teaching ATV & snowmobile Safety classes is something we hope to do at least bi- annually with the local Recreational Sports Clubs.
Fall Snowmobile Safety Class
Date TDB
Fall Snowmobile Safety
Gateway Powersports will be hosting a Late Fall Snowmobile Safety Class with a date to be announced this summer.
Follow us on Social or check back to the website for details on this Class.
Fall Sled Preview
Saturday, October 7th
9am -3pm
Fall Sled Preview
Be the frist to see all the sleds we have ready for the upcoming Snow season at the Fall Sled Preview event at Gateway Powersports.
Bring you sledhead friends to share your stories and adventures as we prepare for another Snowmopbile Season in Wisconsin.
Shop Christmas Party
Saturday, December 23rd 2023
Shop Christmas Party
Ring in the Holiday season with Gateway Powersports Shop Christmas Party. Stop in on Saturday, December 23rd 2023th for a cup of Holiday Cheer and share your Holiday Snowmobile plans with the Gateway crew.
Bring the whole family to share the snowmobile excitement of the season. Deals on Apparel & Gift Cards.
Each item you purchase will get you an entry for some great swag.
UTV Joy Ride to Support SJS
July 23 2023
Family UTV Ride
UTV SCAVENGER HUNT ACROSS SAUK COUNTY TO EXPLORE THE UTV ROUTES & CREATE CONNECTIONS WITH FELLOW ENTHUSIASTS & SUPPORT A GREAT LOCAL CHARITY
Offsite Events, Races & Swaps
Hay Days Grass Drags & Swap Meet
2023 Hay Days Swap Meet
Gateway Powersports at HayDays Grass Drags is going to be a great time! The Midwest's largest Grass Drags, Powersports & Swap Meet the weekend after labor day every year.
The Gateway Powersports team is excited not only to show up for this super cool event, but to celebrate our 2nd year of business in the New Shop in Baraboo, WI with tons of Good Condition Use Polaris Snowmobile, ATV & UTV parts.
We are also stocked with our new Haydays Exclusive "It's not fun until they turn the sirens on" 2022 Shop Shirts and our classic 2021  "My Sled runs on Stripper Glitter and Busch Lite" Classic T's and a fresh load of our favorite Vintage Snowmobile Inspired Merch.
2023 Ditch Banger Nationals
2023 Ditch banger Nationals
 Saturday, February 11th in Elk River, MN at the ERC Motor Park watch Riley the Shop Manager participate in Ditchbanger Pro Lite Class and the Ditch Banger Mod Class.

This is a first for the Gteway Crew so watch our social to see how this all plays out.
Hub City Dirt Drags | Spring 2023
Hub City Dirt Drags | Spring 2023
Join us Saturday May 13th for the annual Hub City Dirt Drag races! We have a wide variety of classes!
Free spectator admission great food and cold beverages!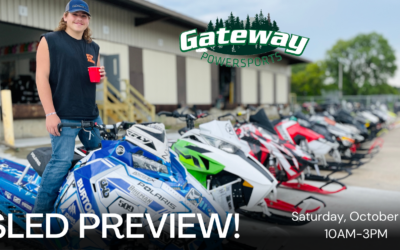 2022 Snowmobile  PreviewGet ready to rev up your winter excitement and dive into the world of snowmobiling at the Gateway Powersports Sled Preview 2023 on Saturday October 7 9am to 3pm! See the Newest snowmobile inventory, grab your pre season maintaince supplies,...