KFI Open Trail ATV & UTV Plow Systems represent the best in performance, value and durability for your ATV or UTV Plow System. When it is time to decide which snow plow kit is right for your ATV or UTV, you need to determine what plow can get the job done. With KFI, you are getting that plow. KFI makes the plow mount, push tube and blade all in the USA using high quality American steel. The Open Trail system comes with everything you need and nothing you don't. No gimmicks here just straight up snow pushing power. With multiple blade size options: 54″ 60″, 66″ and 72″ it doesn't matter whether have a Polaris Ranger, Can Am Defender, Honda Pioneer or any other ATV or UTV out there, we will have a KFI plow skit that suits your needs.
Are you fed up with shoveling snow? Maybe you're sick of waiting for plows to reach your street, or you find yourself wishing for a faster, easier way to get things done. Don't let it get you down! Stop in to Gateway Powersports to order a Snow Plow package for your ATV.
Snow plow packages can be added to almost any existing ATV that is in good running condition.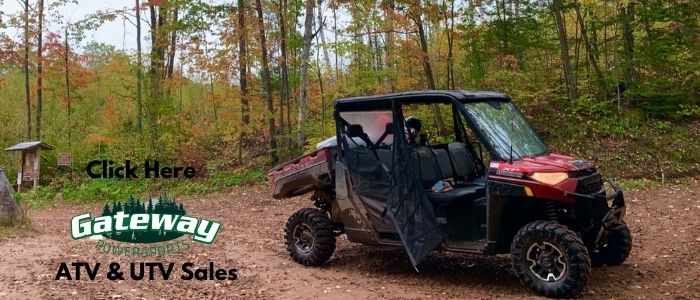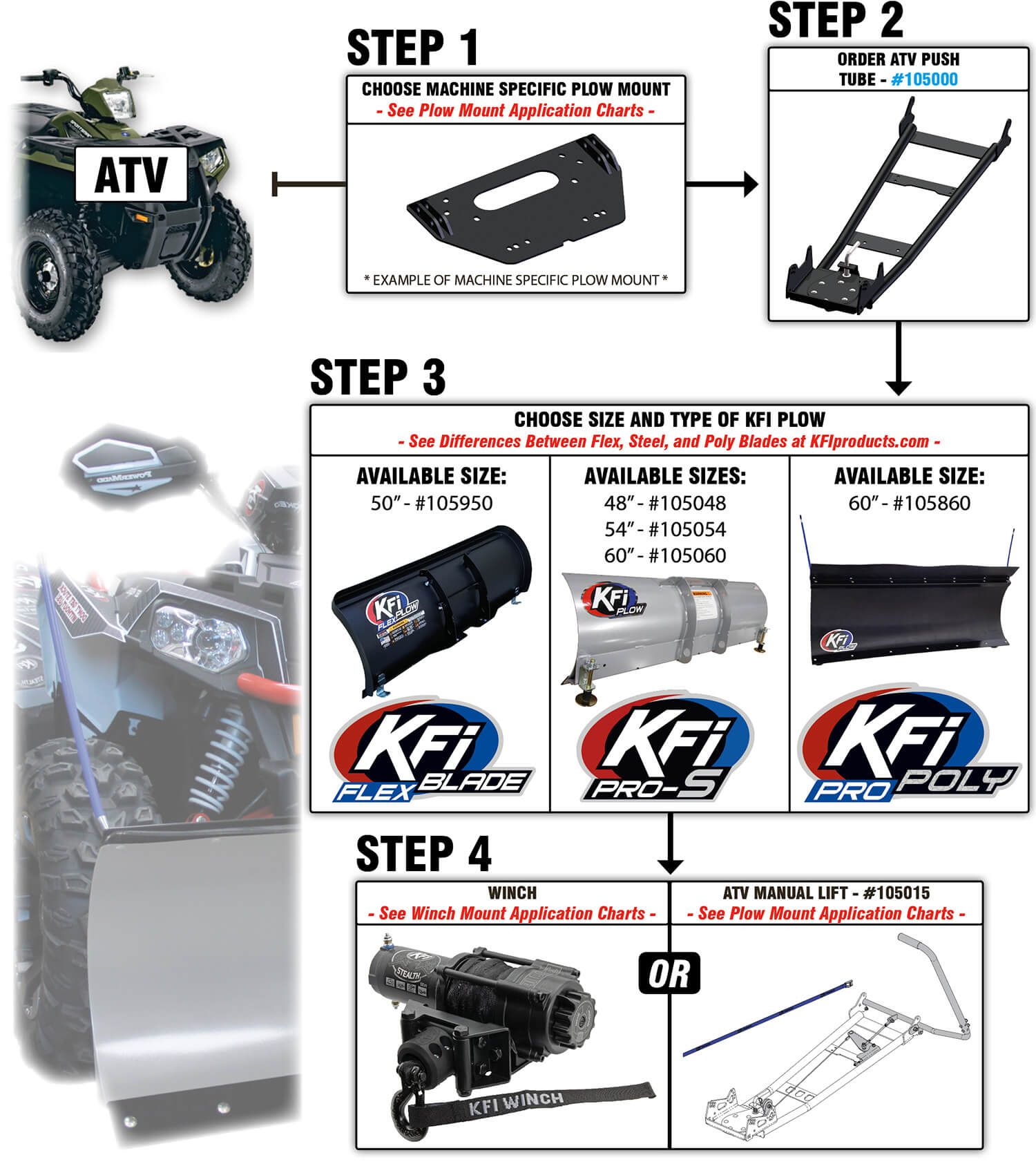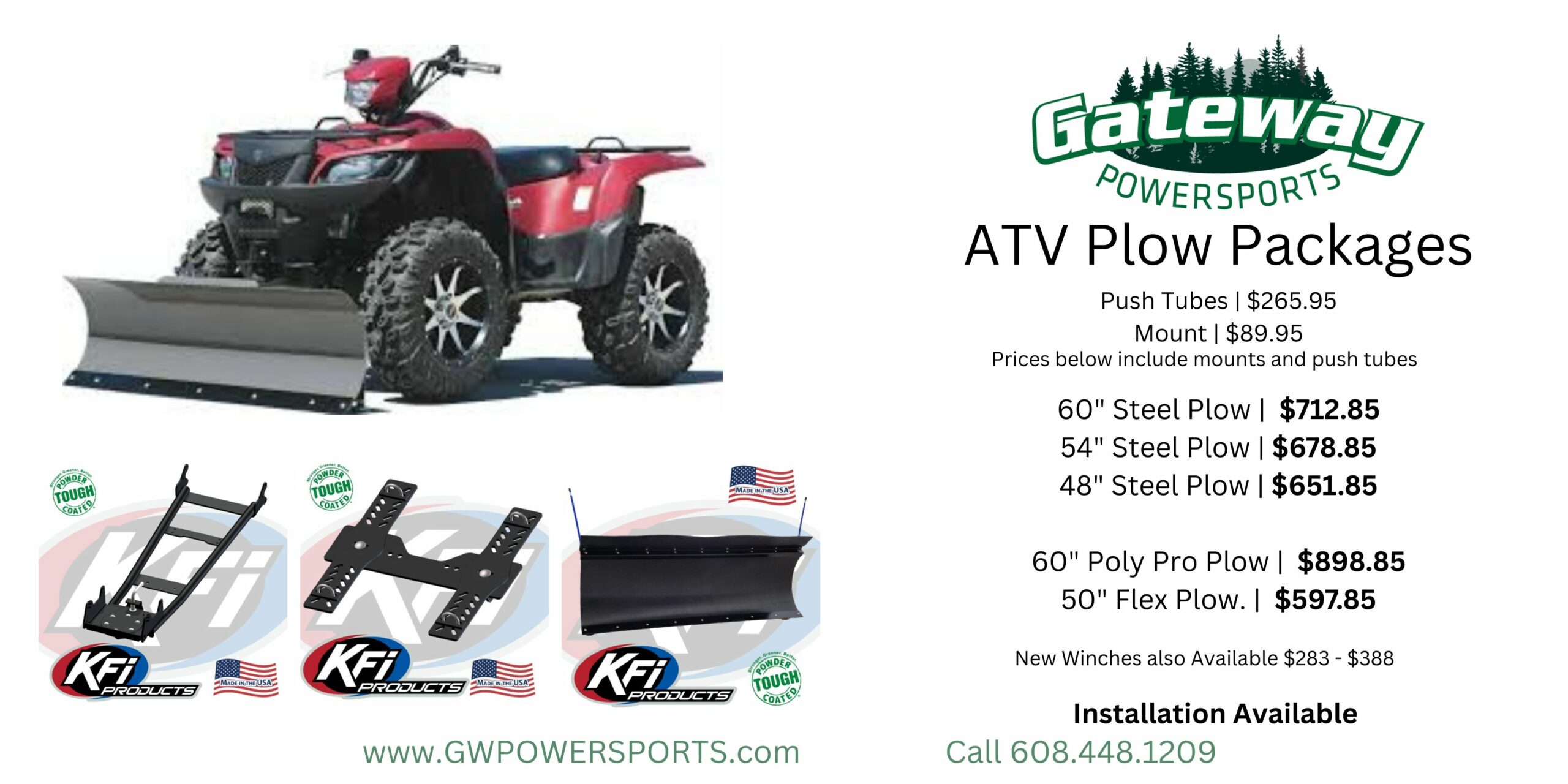 Have you added a UTV to your garage in the last couple years? Time to make that uit earn it's keep in the winter season. You can outfit most UTV's  as a utility vechical with a snow plow.
Gateway Powersports has a HUGE selection of instock KFI Snowplows, mounts, push tubes and winches to fit most units .
Call to order your parts and schedule your install today, before the snow flies.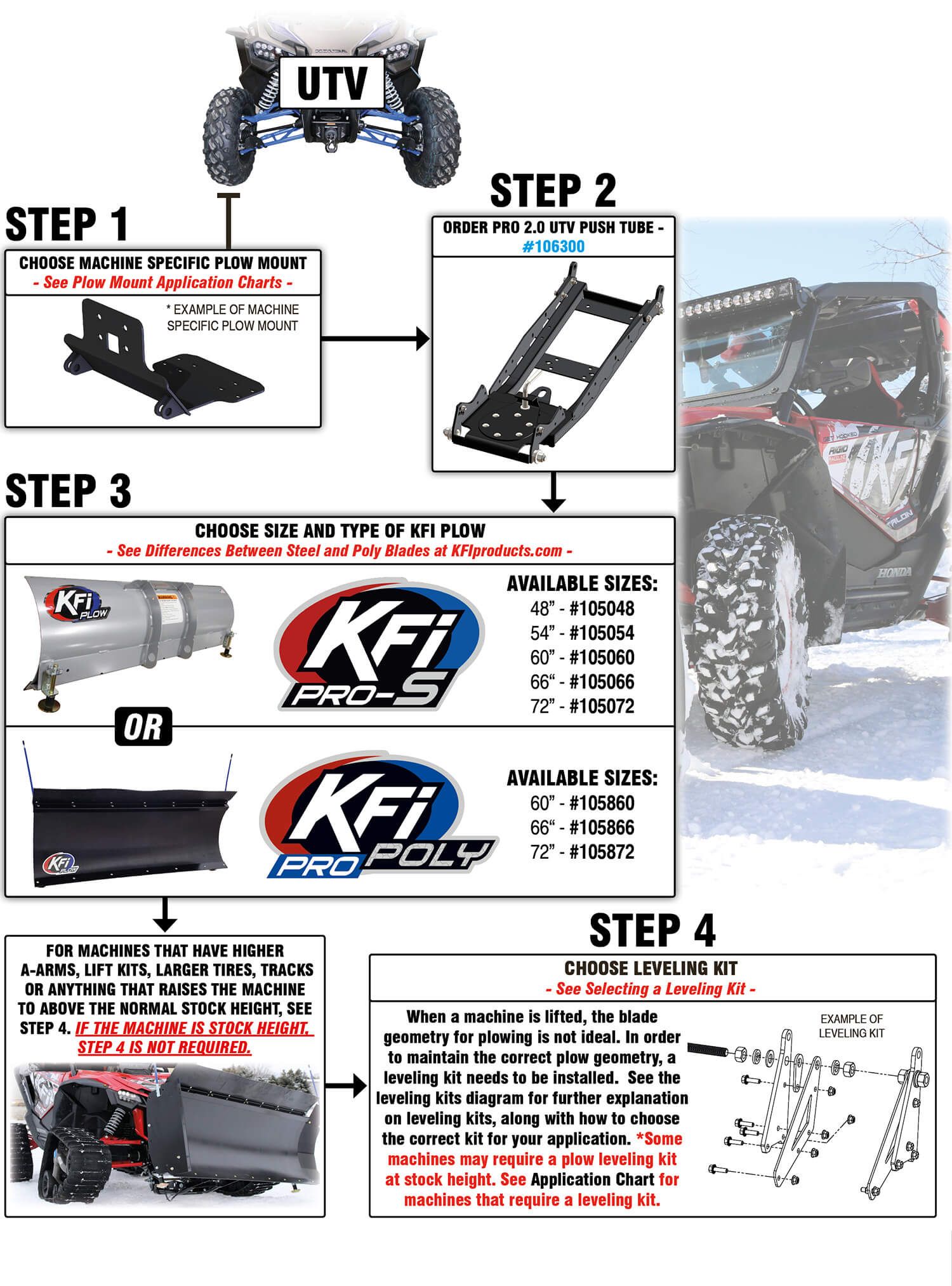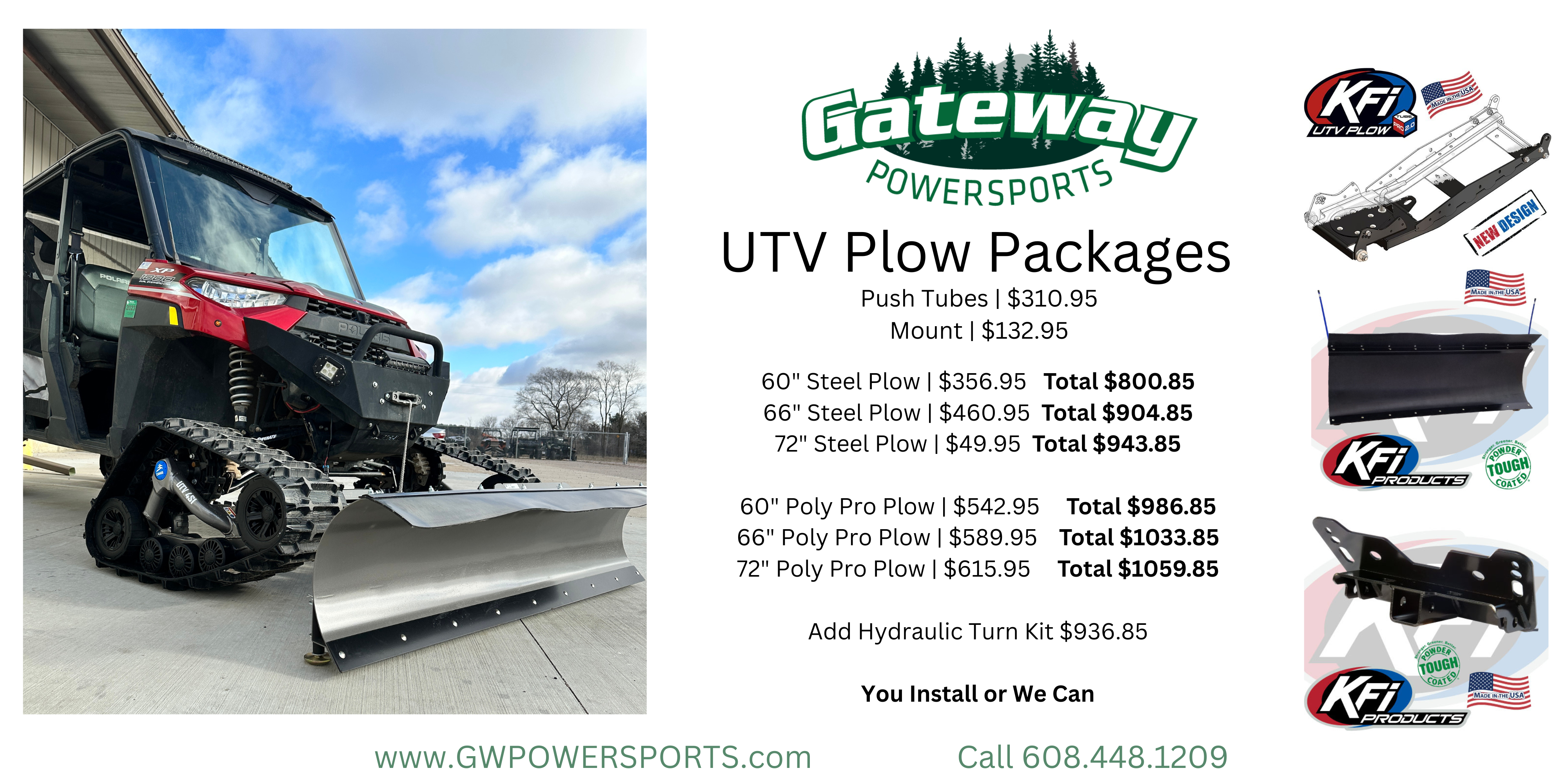 Tips for Choosing the Correct Plow
Choosing the correct plow package for your ATV or UTV can be challenging. Here are a few things that you should consider when choosing a winch, mounting system and plow for your machine. Gateway Powersports Crew recommends stopping in to the shop or  a Plow supplier to consult a professional and make the best choice.
Before the snow flies, you may want to inspect your machines tire condition. If your tires are less than 50% of theor life left you may want to consider a set of tire chanes or getting a replacment set of tires for the winter. You can switch back to the limited life tires in the Spring.

First, check the manufacturer's specs for your model and verify that you've got enough power to operate a plow. Keep in mind that your ATV doesn't weigh much, and it's nowhere near as powerful as a truck or SUV. This does limit the conditions you can use your ATV to plow in. Light, dry, powdery snow shouldn't be a problem if there are less than eight inches on the ground. But if there's wet snow or ice, that depth will decrease dramatically.
Since plowing snow with your ATV puts more strain on the machine than it would normally handle, make sure it's well-maintenanced before you start plowing. Check if your oil filter needs replaced, and make sure the oil is topped off. The engine can easily overheat due to the heavy loads of snow, so don't start before checking your coolant level.
Gateway Powersports has huge selection of In-stock KFI Plows, Mounts, Push Tubes and Winches. We can also order Doors, Cab Heaters, Light Bars and all the other accessories on your wish list can be ordered at Gateway Powersports. 
Our full service shop can install your accessories for you or you can install at home. Stop in and talk to Steve or the shop guys today.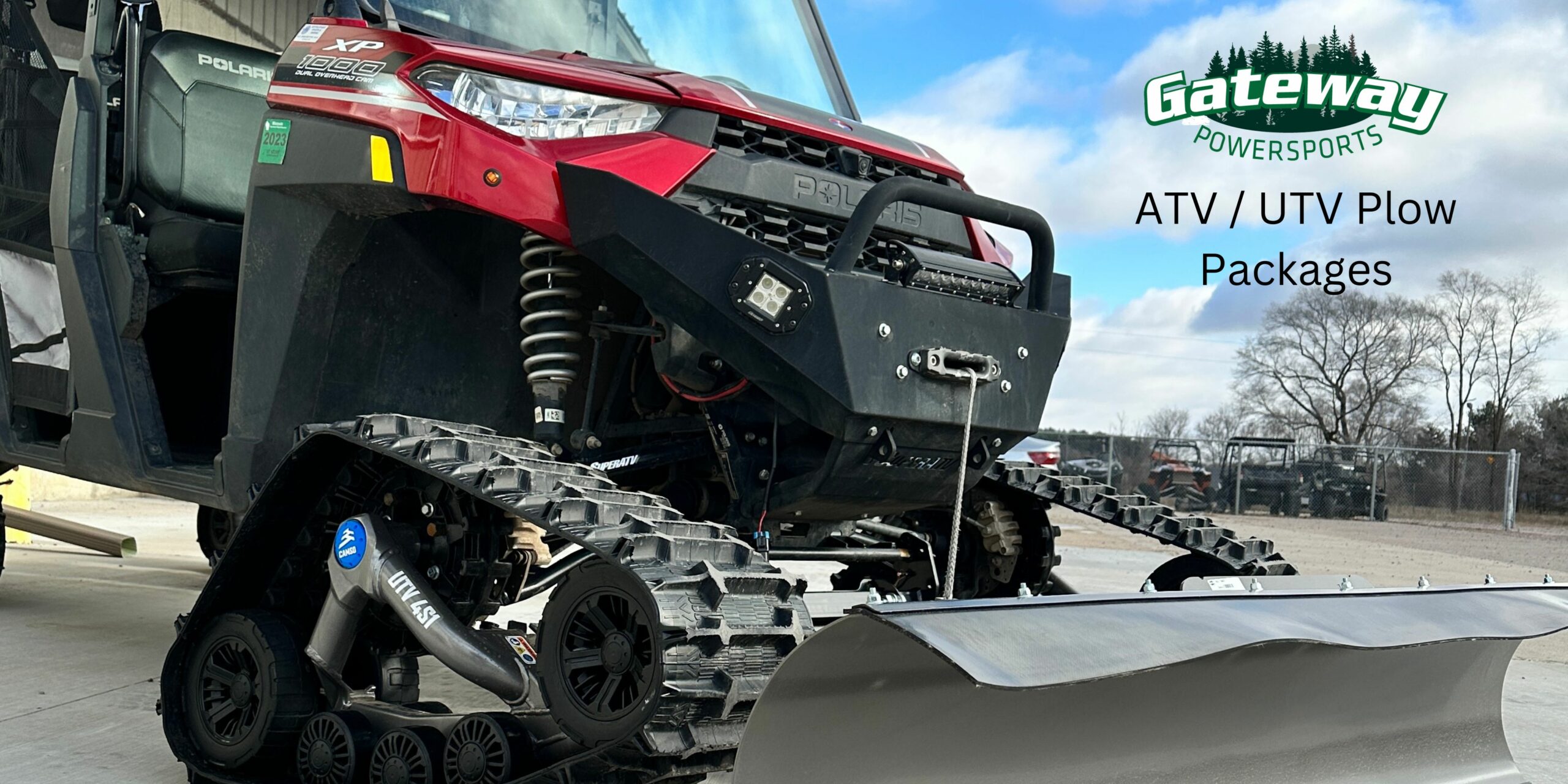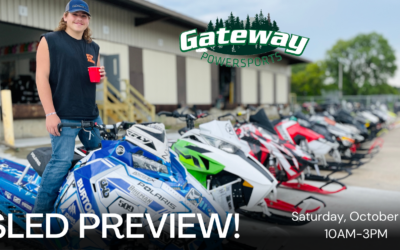 2022 Snowmobile  PreviewGet ready to rev up your winter excitement and dive into the world of snowmobiling at the Gateway Powersports Sled Preview 2023 on Saturday October 7 9am to 3pm! See the Newest snowmobile inventory, grab your pre season maintaince supplies,...